Our 'Sheffield' class is based on classic British broadbeam barges, inspired by boats such as "Big Mere" and the Icebreaker, "Whale". She has a huge internal volume and is an ideal live aboard as she will happily cruise the wide beam system in the UK.
Herculean build quality, combined with careful design gives this little ship instant appeal. A truly unique craft.
specification includes:
Max dimensions 60' by 12'3"

10mm/6mm/4mm steel construction

Internal keelson for increased strength

Ring frame construction plus hull and cabin stringer for increased strength and "fair" lines

Elegant sheer to hull sides, protected by three substantial rubbing strakes

Wide side decks and built in "toe rail" to ensure confident handling and good access to all areas of boat

9' stern includes:
Good engine access

Built in seat lockers, rear locker housing hydraulic steering sytem and emergency tiller position

Helmsman's position

Back doors and sliding hatch

Heavy duty bollards
Bow thruster locker access (185mm tube fitted)

Gas locker

Anchor chain locker

Heavy duty bollards

Front door/emergency escape access
Split level cabin with subtle "sheer" featuring:
All port hole apertures

Roof light/ lantern aperture with raised steelwork to accommodate steel or wooden roof light

Houdini hatch steelwork

2 off side doors for additional ventilation/ light
Integral diesel tanks with twin filling positions

Engine bearers and keel cooling tanks to suit engine of your choice

Large weedhatch for good access to prop

1 ½" stern tube fitted

Heavy duty "shilling" rudder for increased handling dynamics on 50mmm diameter rudder stock

Emergency tiller steering position

Fender eye fittings

All external steelwork welds and surfaces thoroughly prepared

Painted in Jotomastic 2 pack epoxy – including beneath baseplate
component price list:
Steelwork only:
Fully linished and primed
£48,290.00
Engine and bow thruster fitted:
Barrus 90hp fitted with single start battery

Fuel systems fitted and tested

Cooling systems fitted and tested

Morse control mounted on Helmsman's position

Propellor, shaft and flexible coupling fitted

Vetus 95kgf bow thruster unit fitted

Hydraulic steering system unit fitted
£18,700.00
Sailaway package includes:
Approximately 15 tonnes of concrete ballast

25mm poly floor fitted to floor joints

Battening

Sprayfoam insulation

12 off chrome portholes fitted

1 Houdini hatch fitted
£15,350.00
Painting:
2 colour paint scheme using Jotomastic Yacht paint system, including anti-slip
£9,890.00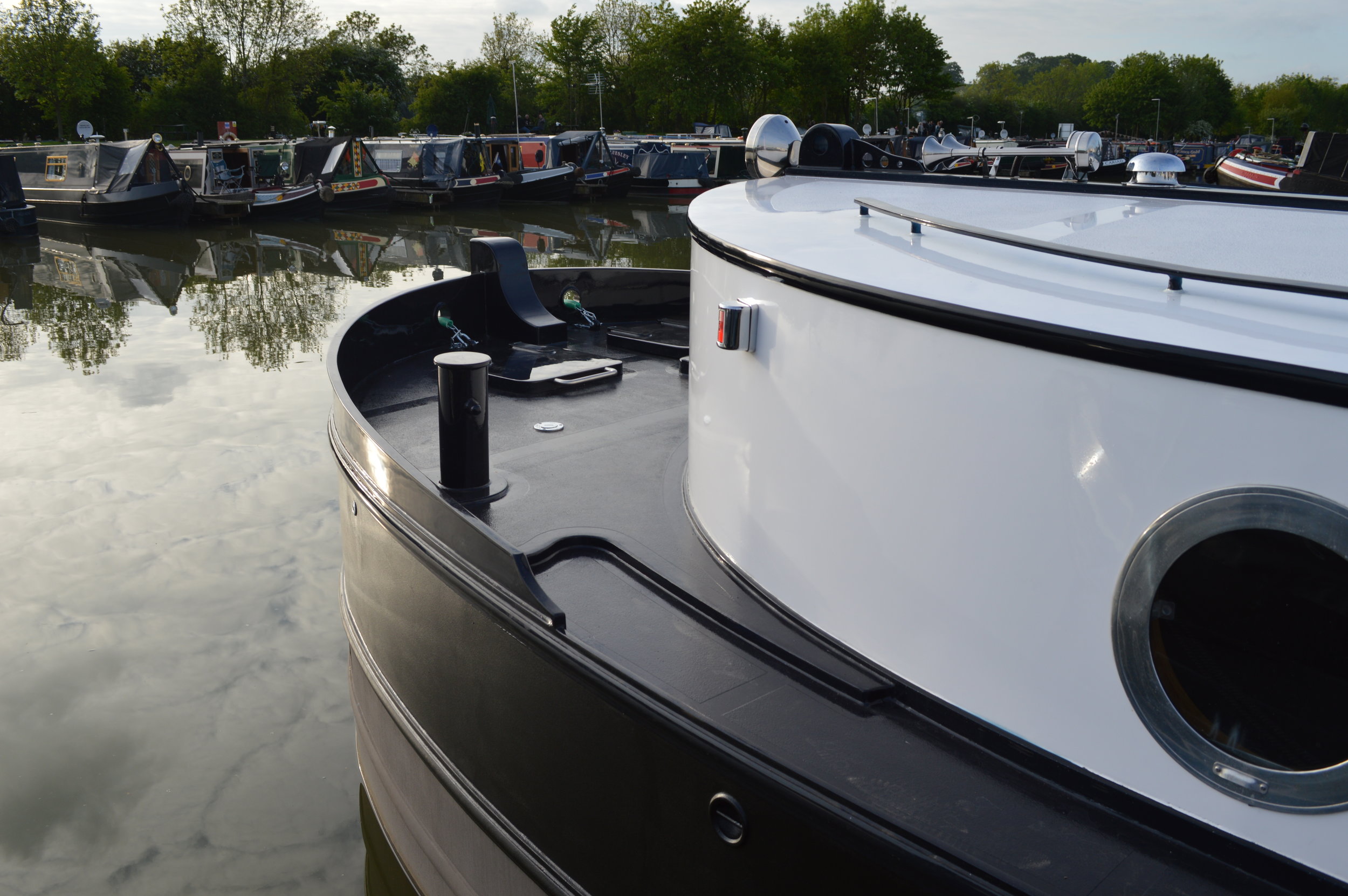 All prices shown do not include VAT. If the boat is to be your primary residence, it will be VAT exempt as it meets the necessary criteria to be a "Qualifying Ship" as set out in H.M. Customs and Revenue rulings.